White Cat Names – 125+ Awesome Ideas
Last updated:
by Jessi Larson
You can find inspiration for white cat names in many different places. Their beautiful white fur is gorgeous, for starters, and gives these cats a sweet, pure feel. White cats are considered more innocent and angelic than black cats, although their owners may tell a different story.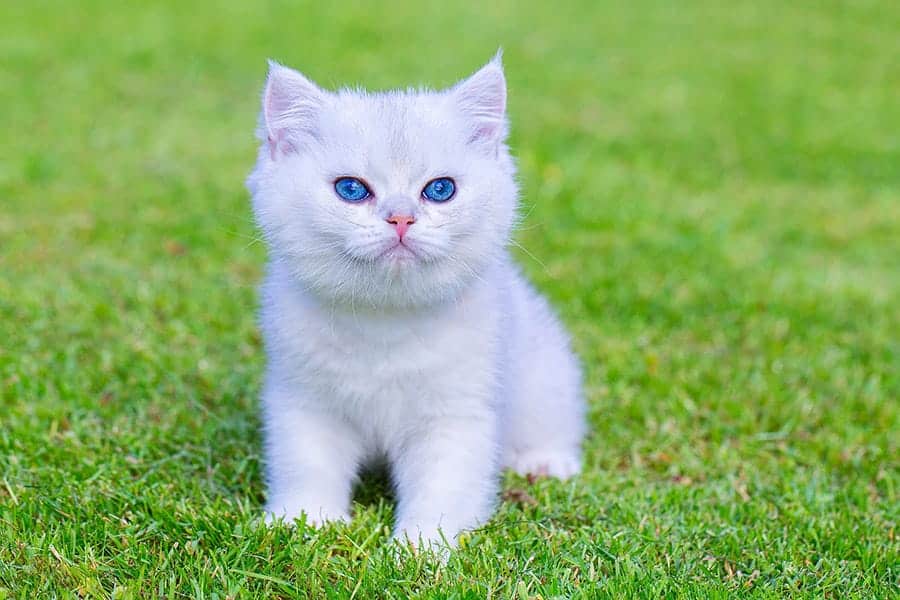 If you are lucky enough to get one of these cats, giving this bundle of fur a white-inspired name is a wonderful idea. We searched high and low and have an extensive assortment of names for white cats below!
White Cat Names Inspired by Nature, Weather & the Seasons
Blizzard – A blur of white, just like your cat.
Winter – This season is correlated with white snow and makes a cool name.
Frosty – A cute name that pairs perfectly with a white cat.
Ice – (or Icicle) Cool and cute at the same time.
Snowball – A classic name for white cats.
Snowflake – (or Snowy) is a great winter weather name.
January – Named after the super cold, often snowy month.
Sky – At times, the sky is clear and pale in color.
Luna – A trendy name that is perfect if your cat has a bit of a silver-ish tint.
Lunar – Another good name for a silver-ish tint.
Cloud – Another white fluffy thing.
Nimbus – Like the white rain cloud.
Alaska – This state is known for its snowy white terrain.
Everest – Mount Everest, the Earth's highest point, is recognized for its white-capped mountain top.
Misty – Mist is often white and flowing.
Polar – Like those adorable white polar bears.
Avalanche – action-packed snow name.
Nimbus – like a fluffy white cloud.
Chilly – a cute-sounding name for the cold.
Jack Frost – Wintery & proper sounding name.
Snow White – Well-known character and wintery name.
Lotus – A beautiful flower.
Related: Winter cat names
White Cat Named Based on Religion and Faith
Angel – Your cat is a little cherub, so why not name him/her Angel?
Faith – White often corresponds with religious terms, like Faith.
Hope – Or Hope.
Dove – Like the sweet white bird.
Love – A pure, beautiful emotion.
Harmony – Another beautiful, graceful name.
Grace – God's favor toward humankind.
Gabriel – An angel who is a messenger of God.
Eden – The garden that is a heaven-like place.
Halo – A circle of light above an angel's head.
Bodhi – meaning enlightenment.
Mystic – A religious mystery.
Cute White Cat Names
You'll love these name options if you've got a cute white cat. They're a favorite for female white cat names but work for both genders.
Mittens
Whiskers
Nibbles
Bella
Twinkle
Paws
Fluffy
Honey
Tinkerbell
Pumpkin
Milo
Cupcake
Sparkle
Cuddles
Purrfect
Button
Nova
Related: our complete list of cute cat names
Funny White Cat Names
These ideas are funny or punny and are sure to get a laugh.
Al Bino – We can't stop laughing about this funny play on albino.
Powder – Like powder sugar or baby powder. Or the '90s movie about a bald albino.
Cotton – White and fluffy. Sounds like your furbaby.
Chalky – We bet no one else will have this silly white cat name.
Q-Tip – Hehe, this name is silly and fun.
Flakey – Funny and quite cute.
Domino – For the game with white tiles. If your cat has a black nose, it's absolutely perfect!
Talcum – A white clay mineral. Science geeks will love you if you pick this name.
Tic Tac – For the Freshmint flavor.
Yeti – Like the big white creature found in the woods.
Whitey – A fun play on your cat's color!
Charmin – Like the toilet paper. If you pick this name, you'll take some teasing, but it's so worth it.
Alabaster – This white mineral also makes a fun cat name.
Marilyn Meow – Another beauty with white-ish locks.
Vanilla Ice – The 90's rapper.
'White' in Other Languages
Bianco – Italian – Male
Bianca – Italian – Female
Blanco – Spanish – Male
Blanca – Spanish – Female
Wit – Dutch
Blanc – French
Weiß – German
Finn – Irish – Male
Fionn – Irish – Female
Shiro – Japanese
Zima – Winter in Russian
Halloween Names for White Cats
While we typically think of black cats for Halloween, you might also find some good ideas for your ivory kitten.
Ghost – A great option for Halloween lovers.
Bones – Perfect if you have a cat who thinks he's a dog.
Casper – Named after the friendly ghost.
Buffy – Like the vampire slayer.
Boo – How cute is this name? It still implies Halloween without being so literal.
Spooky – Or you can go full force into the scary factor.
White Walker – from Game of Thrones
White Kitten Names Based on Food & Drinks
Here is a list of food-inspired names that are perfect for a cat with a white coat.
Sugar – White and super sweet. Sound familiar?
Egg – (or Eggy) How funny is this?
Rice – Hey, rice is white, too.
Coconut – If you have wanderlust for somewhere tropical, this is a fun name to consider.
Milky – A playful, fun name based on the white drink.
Marshmallow – Marshmallows are white and fluffy, like your kitten.
Noodles – Another common white food.
Vanilla – Whoever said vanilla was boring is seriously delusional.
Cream – Beautiful and cool all at the same time.
Salty – (or Salt) A unique name for your white furball.
Peppermint – Delicious wintery candies.
Bailey – Bailey's Irish Cream.
Brie – Delicious creamy cheese.
China – The white dishware.
Tofu – Pressed soybeans
Related: food-inspired cat names
White Flowers Perfect for a White Kitty
These flowers are either commonly white or have white varieties.
Jasmine – Named after the white, beautiful plant.
Lily – Like the cute white flower.
Gardenia – If you like the flower idea but want something a little more unique, Gardenia is a fun choice.
Magnolia – Large, fragrant flowers that symbolize nobility.
Oleander – This name is gorgeous and unique.
Daisy – Super cute, simple name!
Rose – A symbol of innocence and purity.
Orchid – Representing luxury, strength, and beauty.
Daffodil – Trumpet-shaped flowers that symbolize renewal.
Hyacinth – Star-shaped flowers that represent loveliness or prayers.
Snowdrop – A flower that blooms in the early spring, often through snow.
Zinnia – A flower that symbolizes goodness.
Camellia – A native flower of Japan.
White Cat Names Inspired by Precious Stones
Diamond – Shine bright like a diamond!
Ivory – Such a cool, unique name that fits your cat's coloring.
Crystal – Crystal is shiny and whiteish, making a perfect white cat name.
Pearl – White and beautiful, just like your cat. I love this name!
Opal – This beautiful, iridescent substance is often white.
Quartz – A common gemstone that is often clear or white.
Sapphire – Although sapphires are often blue, they can also be white.
Fancy White Cat Names
If you want your kitten to have an air of luxury, these are the ideas for you!
King – After all, your cat is the king of your house.
Queen – Or maybe the queen of your house?
Lux – Short for luxury. Ah, yes.
Royal – Your cat acts like royalty, so why not call it out?
Ritsy – Or go with a cute name like Ritsy.
Prince – If King or Queen isn't your style, try out Prince.
Princess – or Princess
Duke – Or more nobility from Duke.
Duchess – or Duchess.
Elsa – The white princess.
If you're not sold on one of these white cat names, check out our online cat name generator to find other options—sort by your preferred style, hobbies, and interests. You're sure to find the perfect cat name!
Here are some other good sources for names:
How to Teach Your Cat Its Name