Food Cat Names – 185+ of the Best Food Names for Cats
Published:
Last updated:
by Jessi Larson
If you're looking for a unique cat name, here's an idea: Why not pick one of these food names for cats? It's fun and instantly recognizable, and you don't have to worry about it being common. Food cat names can also be pretty cute and exceptionally memorable.
Food can be an excellent inspiration for a cat name and can lead to a unique, fun moniker for your kitty. You can also match the color of the food to your cat's coat. For example, Kahlua is a great name for a dark-colored cat.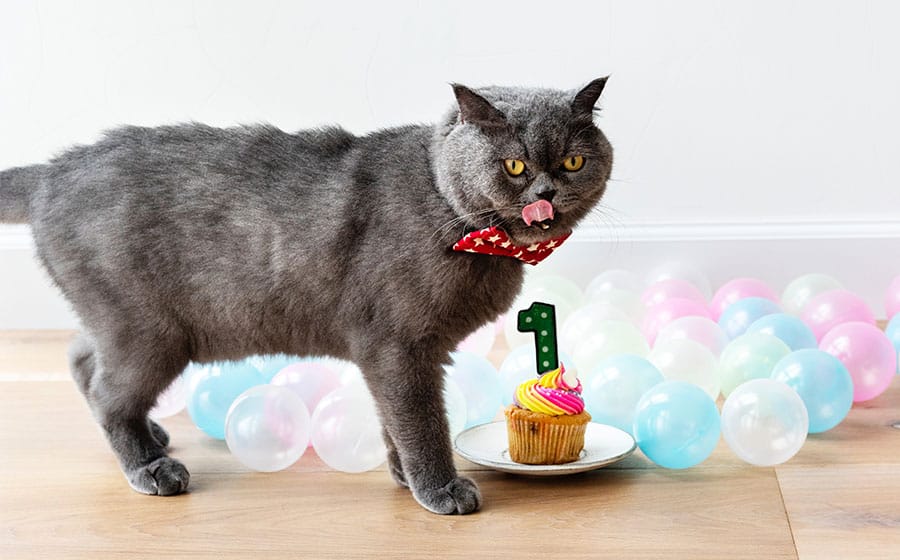 Ideas are all around you – from food commercials to the food you're eating to brands you see at the grocery store. Just think of your favorite foods to get started. We made it easy and created a list of great cat names inspired by food:
Girl Food Cat Names
These female food cat names are pretty darn cute! So if you're a foodie or just looking for a unique name for your girl cat, check these ideas out.
Biscuit
Brandy – alcohol
Brie – creamy cheese
Brownie
Buttercup
Butterscotch
Candy
Cappuccino – espresso-based coffee drink
Caramel
Caviar – delicacy consisting of salt-cured roe
Chai – black tea flavored with spices and herbs
Chalupa – specialty dish of south-central Mexico
Cheerio – classic cereal
Cheesecake
Cherry
Chiquita – banana!
Cinnamon
Clementine – citrus fruit
Cocoa
Coconut
Cookie
Crumble
Cucumber
Cupcake
Dumpling
Eclair – pastry filled with a cream and topped with chocolate icing
Espresso – Italian coffee
Fig
Fudge
Ginger
Godiva – chocolate brand
Honey
Honeydew – melon
Jellybean
Kahlua – coffee liqueur
Kimchi – Korean dish made from salted and fermented vegetables
Kit Kat
Kiwi
Kix – cereal
Macaroon – small biscuit/cookie
Malibu – coconut rum
Maple
Marmalade
Marshmallow
Merlot – wine
Miso – traditional Japanese seasoning
Mocha
Mochi – Japanese rice cake
Muffin
Nilla – wafers
Nutmeg
Olive
Oreo
Raisin
Rosemary
Peaches
Pepper
Peppermint
Popcorn
Pumpkin
Saffron – costly spice
Sage
Sashimi – Japanese delicacy of raw fish
Sherbet
Skittles
Snacks
Snickers
Strawberry
Sugar
Sushi
Sweet Pea
Swiss Miss – cocoa
Tofu
Tootsie – tootsie roll
Truffle
Twinkie
Boy Food Cat Names
These male food cat names are a great way to set your cat apart. Pick out your favorite snack, or go for a name with a bit of humor like pickles!
Alfredo – The creamy pasta sauce
Angus – Quality beef
Applejack – cereal or drink
Asiago – cheese
Bacon
Bailey – Bailey's Irish Cream
Barley – classic brewing ingredient
Basil
Beans
Beignet – French deep-fried choux pastry
Berry
Biscuit
Brewski – For the beer lovers
Brownie
Bud – beer staple
Burrito
Caesar – Salad anyone?
Cheddar – cheese!
Cheerio – cereal
Cheeto – chips
Chestnut
Chewie
Chili
Chip
Churro – fried-dough pastry
Cocoa
Crisp
Crunch
Curry – Indian dish
Dijon – mustard
Donut
Dorito – chips
Flapjack – pancakes
Frito – chips
Fry – French Fry
Fudge
Gelato – Italian ice cream
Grits – boiled cornmeal
Guinness – famous dark beer
Gumbo – southern dish
Hershey – Chocolate brand
Hoagie – sandwich
Jameson – whiskey
Java
Jellybean
Kale
Maple
Meatball
Mojito – rum drink
Muffin
Nacho
Newton – Fig Newton
Nugget
Nutmeg
Oreo
Peanut
Pepper
Pickles
Pistachio
Porky
Pork Chop
Porter – Delicious dark beer
Queso – cheese
Reuben – sandwich
Sprout
Spud – potato
Stout – Another dark beer
Taco
Taquito – rolled taco
Tater Tot
T-Bone
Toffee
Tofu
Tuna – fish
Twinkie
Twix
Wedge
Need more inspiration? Try out our cat name generator.
Coffee Names for Cats
The coffee lover will enjoy these unique coffee names for cats.
Americano – espresso with water
Barista – espresso bar operator
Cappuccino
Cherry – fruit of the coffee tree
Cortado – espresso with flat steamed milk
Cubano – cafe cubano, espresso w sugar
Espresso
Geisha – Coffee bean variety from Panama
Java – Bean variety from Indonesia
Kona – Bean variety from Hawaii
Lungo – cafe lungo, espresso w brewed water
Macchiato – espresso with milk
Mocha – latte with chocolate
Redeye – cup of coffee with espresso
Romano – espresso romano, espresso with lemon
Alcohol Names for Cats
These drinks and liquors could make for some original alcohol names for cats.
Bailey – Bailey's Irish Cream
Brandy
Cosmo – vodka, triple sec, cranberry, and lime
Daiquiri – fruit blended with rum
Gimlet – gin, lime and sweetner
Jameson – whiskey
Kahlua – coffee liqueur
Manhattan – rye, vermouth and bitters
Margarita – tequila cocktail
Martini – vodka with vermouth
Merlot – wine
Mojito – rum drink
Spritz – Aperol Spritz – Prosecco, Aperol and soda
Tom Collins – gin, lemon and soda water
Whiskey
Vesper – drink with vodka gin and vermouth
Beer Names for Cats
If you're a beer fan, these beer names for cats will be right up your alley. These names come from brewing ingredients, breweries, and specific beers. So what's your favorite beer? Maybe it'd make a good name!
Arnold – Saint Arnold Brewing TX
Barley – classic brewing ingredient
Beast – the nickname for Milwaukee's Best
Bock – Dark German malty beer
Brett – Wild / sour beer brewed with Brettanomyces
Brewski
Brooklyn – Brooklyn Brewery
Bud – beer staple
Citra – hop varietal
Corona
Dunkel – German dark lager
Flanders – wild / wour beer (and Simpsons character)
Floyd – Three Floyds Brewing IN
Guinness – famous dark beer
Heineken
Kolsch – German crisp ale-lager hyrbid
Maibock – German pale bock
Marzen – German "March" spring beer & fest October beers
Miller
Mosaic – hop varietal
Nugget – hop varietal
Odell – Odell Brewing CO
Pilsner
Pliny – Russian River Pliny the Elder/Younger beer
Porter – Delicious dark beer
Rogue – Rogue Ales from Oregon
Saaz – hop varietal
Saison – Belgian farmhouse ale
Sam Adams
Sierra – Sierra Nevada Brewing
Simcoe – hop varietal
Stella – Stella Artois
Sterling – hop varietal
Stone – Stone Brewing CA
Stout – Another dark beer
Surly – Surly Brewing MN
Warrior – hop varietal
There you have it! Hopefully, you found some fun ideas for food cat names in our list. If you have any more ideas that would be great for a cat, please let us know in the comments below.
Check out these categories for even more cat name ideas:
How to Teach Your Cat Its Name