The Most Famous Cat Names – 33 Super Well Known Cats
Last updated:
by Jessi Larson
When it comes to picking out cat names, sometimes tried and true is best. Famous cat names are fun options because so many people will instantly recognize the name and enjoy the nostalgia!
We dug deep and compiled a list famous cats that are readily recognizable and a whole lot of fun.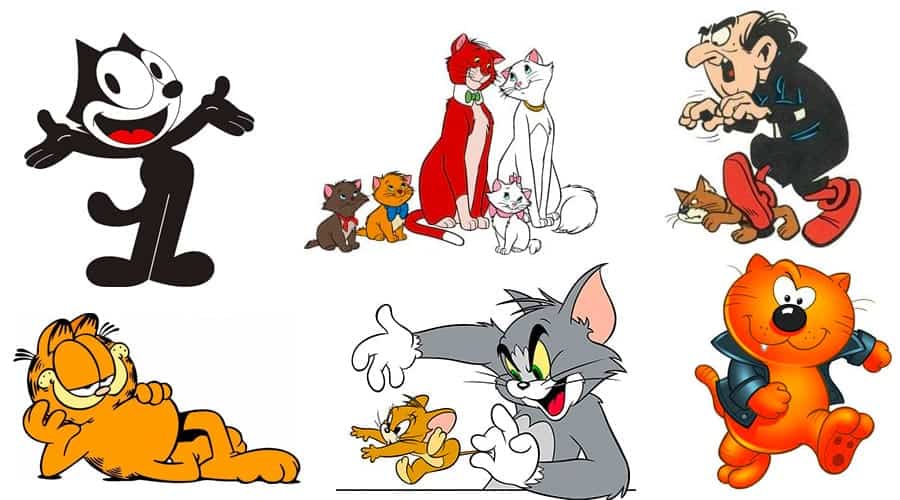 Garfield (famous cats names don't get much more recognizable than this!)
When it comes to famous cat names, this is at the top. Everyone remembers the lovable orange cat from the comic strip, animated cartoon and big-screen movie. The ornery tabby cat was born in an Italian restaurant and quickly developed a love for lasagna. He also enjoys antagonizing owner Jon and his dog Odie.
Heathcliff
Another big orange cat, Healthcliff is a wise-cracking, street-smart feline who despite his tough exterior is actually a good guy. Like Garfield, he first appeared in a comic strip and then moved on to a TV show and movie.
Felix the Cat (the OG of famous cat names)
This cool cat has been famous for almost 100 years now. Felix the Cat was created in the silent film era and quickly transfixed audiences. Not only is he one of the most famous cats in the world, he's also on the list of most popular cartoons. In fact, TV Guide ranked him as one of the 50 greatest cartoon characters of all time in 2002.
Tom (of Tom & Jerry)
Tom & Jerry is a cartoon that focuses on the rivalry between Tom, a cat, and Jerry, a mouse. Tom spends his time trying to capture Jerry leading to wild slapstick comedy where Jerry typically wins out.
Hello Kitty
A sweet, cheerful character, Hello Kitty is a world-wide phenomena. For more than 40 years this famous cat has appeared on merchandise. Once a brand for only young girls, Hello Kitty is now also popular with teenagers and young adults. Amazingly, Sanrio has turned Hello Kitty into a $5 billion brand.
Sylvester
You'll recognize this cat from the Looney Toons cartoons, where he famously chased Tweety Bird as well as Speedy Gonzales and Hippety Hopper. He is remembered for his slight lisp and catch phases like "Sufferin' succotash!" If you're looking for famous cat names, this is a great option!
Tigger
Aw, who doesn't love Tigger, the sweet, bouncing cat in Winnie the Pooh? He has been part of the series since the very beginning and is now a household name. Kids and adults alike instantly recognize his orange fur with black stripes, lanky build and sweet face.
Simba
A list of famous cat names isn't complete without Simba, the protagonist of The Lion King. The cuddly lion cub overcomes many obstacles to take his rightful place as king, all while singing catchy tunes along the way. This is definitely a popular cat name!
Nala
You can't forget Nala, the sweet and supportive partner of Simba. We love this cat name especially for cute, charming kittens.
Scratchy
The Itchy & Scratchy Show is a show within a show within a show. Let's break it down: On the TV show The Simpsons, the kids watch a show called The Krusty the Clown Show, which features a segment with Itchy, the evil mouse Itchy and the hapless cat Scratchy. If you have a good sense of humor, Scratchy is a fun cat name!
Nermal
Going back to Garfield, you can't forget his other nemesis, Nermal. Garfield couldn't stand the pampered, bubbly gray cat and frequently tried to ship her to Abu Dhabi. Many others disagreed, and she got the moniker of the "world's cutest kitten."
Cat in the Hat
Although it's a little long, Cat in the Hat could be a fun name for your cat. This Dr. Seuss character brings lots of fun to the home of Sally and her brother – including Thing One and Thing Two!
Figaro
This adorable, sweet cat is famous from the Disney movie Pinocchio. He is the pet cat of Geppetto and Pinocchio, and his name is cool and exotic if you're considering famous cat names.
D.C.
The classic Disney movie That Darn Cat! is a story about bank robbers, a kidnapping and a mischievous cat named D.C. Although not as recognizable with the younger crowd, quite a few people will still remember this frisky feline.
Mr. Jinx
This is the name of not one but two famous cats! First, the cat from Pixie and Dixie and Mr. Jinks on the television series The Huckleberry Hound Show from 1958 to 1961.
Then later in the movie Meet the Parents. Who can forget the quirky, toilet-trained cat?
Puss in Boots
The character Puss in Boots joined the Shrek sequel and instantly won legions of fans. Voiced by Antonio Banderas, Puss is a fugitive on the run from the law, looking to restore his lost honor. It's tough to stand out among larger-than-life characters like Shrek, Donkey and Princess Fiona, but he does!
Salem
Witty and wily, Salem is the wise-cracking cat on Sabrina the Teenager Witch. What a cool name for a black cat!
Lucifer
Eek – this devilish cat antagonized poor Cinderella in the famous 1950 Disney movie. A sneaky bugger, Lucifer just looks evil with his toothy grin and jet black fur. A fun name for a naughty cat!
Stimpy
Kids of the '90s remember Ren & Stimpy, the goofy cartoon on Nickelodeon and then MTV. Stimpy is a little dim-witted with his tongue frequently sticking out. If you like to laugh, this is one of the coolest famous cat names around.
Oliver
In the 1988 animated movie Oliver & Company, the namesake cat is homeless and joins a group of dogs to survive on the streets, with a lot of bonding and singing along the way.
Grumpy Cat
OMG, Grumpy Cat!!! Her official name is Tardar Sauce, but she quickly earned the title of Grumpy Cat when her grouchy photo took off on the internet. Today it's a household name.
Mr. Bigglesworth
Oh, Austin Powers, how much we love you. Who doesn't laugh at the thought of Dr. Evil with his furless cat Mr. Bigglesworth? This makes for a hilarious, unique moniker, definitely one of the funniest famous cat names.
Cheshire Cat
The Cheshire Cat holds his own among all the colorful characters in Alice and Wonderland. He is notable for his distinctive mischievous grin and amusing dialogue.
Si & Am
Of all the dogs in the movie Lady and the Tramp, it was actually the cats who stole the show! Si and Am, the sinister Siamese cats, are sneaky little felines who love to cause trouble.
Milo
The Adventures of Milo and Otis is a sweet tale of an orange tabby cat named Milo and a pug called Otis who get lost and are trying to make their way home. The movie became a surprise success in the late '80s.
Azrael
The pet orange tabby cat of Gargamel from the Surfs cartoon. Azrael takes some abuse from Gargamel and is generally amused when Garamel's evil plans fail.
Thomas O'Malley & Duchess
Thomas O'Malley is feral cat from the movie The Aristocats who befriends Duchess & her kittens (Toulouse, Marie, Berlioz). He becomes their father figure and eventually falls in love with Duchess. See all the Aristocats names here.
Sassy
In Homeward Bound: The Incredible Journey, a cat named Sassy joins two dogs in thinking they're being abandoned by their owners and set out to find them. Sassy is a sarcastic and witty Himalayan cat who has a sibling-like relationship with the two dogs: Shadow, a wise, old golden retriever, and Chance, a young, immature American bulldog
Did we miss any famous cat names? Let us know below and we'll add to the list!
Looking for more great cat names? Check out our cat names search!