Superhero Cat Names – 110+ Epic Ideas
Last updated:
by Jessi Larson
When you get a new cat, you're welcoming a new family member and need a proper name before introducing it to others. So why not explore superhero cat names?
Superhero cat names are strong, adventurous, and full of personality. And there are a plethora of ideas to choose from!
If you're a massive fan of comics and superhero films, you absolutely must explore these epic and extraordinary names.
Of course, you can go about this two ways – by picking a name or character you love or by selecting a name or character that suits your cat.
The latter will take some time. But, first, you'll want to assess your feline's personality to find out just which superhero they are most like.
Remember that there is power in a name, so maybe your choice will be more about what you hope your kitty will emulate. In that case, it's more about the characteristics you love the most about your favorite superhero and less about the cat's nature.
This list is sure to put you on the right path as you go about choosing the perfect moniker for your new furry friend.
Male Superhero Cat Names
Are you looking for tough and tenacious names for your boy cat? Try out some of these male superhero cat names!
They're strong and adventurous – just like your cat.
Or, if you have a more docile feline, you could use the name ironically.
We've included the source of origin, although if you're a superhero fan, you might already know it.
Apollo – a Greek God of Olympus
Archer – from the Golden Archer
Asgard – from Thor
Banner – Hulk's alter ego
Beast – from Teen Titans
Bruce – from Batman's alter ego
Captain – from Captain America
Carter – From Agent Carter
Castle – from The Punisher
Clark – Superman's alter ego
Colossal – a great name for a friendly giant
Colter – from Luke Cage
DC – as in DC Comics
Deadpool – from Deadpool
Drax – from Guardians of the Galaxy
Elysius – a powerful, artificial being
Endgame – from Avengers
Fantomah – A superhero ghost
Fury – from Avengers
Gambit – from Captain America
Gilmore – from Captain America
Groot – from Guardians of the Galaxy
Grudroth – from Thor
Hawkeye – a great name for a watchdog
Hero – short for superhero
Hogan – from Iron Man
Karnak – from Inhumans
Kingpin – from Daredevil
Korath – from the Guardians of the Galaxy
Krypto – for "Kryptonite" from Superman
Logan – from Wolverine
Loki – from Thor
Malcolm – from Jessica Jones
Marvel – as in Marvel Comics
Micro – from The Punisher
Nadeer – from SHIELD
Olympian – Greek-Roman superman
Panther – from Black Panther
Parker – from Spiderman
Poolie – from Deadpool
Pyro – from X-men
Raza – from Iron Man
Spidey – from Spiderman
Strucker – from Captain America
Stark – from Iron Man
Taggert – from Iron Man
Talbot – from Hulk
Thanos – from Avengers and Guardians of the Galaxy
Thor – a Norse God with his hammer
Tiger – after the Bronze Tiger from DC comics
Tony – from Iron Man
Triton – from Inhumans
Viper – from Wolverine
Whiplash – from Iron Man
Wolfgang – from Captain America
Wolverine – from X-Men
Xandar – from Guardians of the Galaxy
Xavier – from Professor X
Zandow – from Agent Carter
Zatanna – from DC comic books
Zemo – from Captain America
Female Superhero Cat Names
Many daring female characters have entertained us on TV shows, movies, and of course, comics. These all make excellent superhero cat names!
You could go with your favorite character. Or maybe you like the name, and it fits your furry friend.
Whatever the reason, female superhero cat names are always fiery and fun!
Amazon – from Wonder Woman
Bakshi – from SHIELD
Barbara – from Batgirl
Buffy – from Buffy The Vampire Slayer
Carol – from Captain Marvel
Castle – from The Punisher
Catwoman – from Batman (and a great cat superhero name!)
Claire – from Daredevil
Coleen – from Iron Fist
Crimson – from Marvel comics
DeeDee – from Daredevil
Diamond – from Diamondback
Diana – Wonder Woman's alter ego
Foggy – from Daredevil
Gamora – a green-skinned superhero
Heroine – a strong female dog name
Huntress – a great name for a hunting pup
Jade – from the Justice League
Juno – Hercules's granddaughter
Katniss – from The Hunger Games
Kismet – name that stands for "golden-hued beauty"
Korath – from Guardians of the Galaxy
Leia – from Star Wars
Mera – from Aquaman
Mulan – the warrior woman who impersonates a man in battle
Natasha – from Black Widow
Nova – from the Silver Sable
Organa – from Star Wars, Princess Leia's last name
Pepper – from Iron Man
Poolie – from Deadpool
Quinn – for Harley Quinn
Raven – from Teen Titans
Rey – from Star Wars
Sharon – as in Sharon Carter
Shuri – a superhero princess
Sprite – from Kitty Pryde in X-Men
Squirrel – from Squirrel Girl
Star – after Starfire from Teen Titans
Storm – from X-Men
Thundra – a great name for a tough female pup
Tigra – this superhero is more powerful than a tiger (and it's a great cat superhero name!)
Ultra – from Avengers
Vixen – the comic character also known as Mari Jiwe McCabe
Wasp – a great name for an aggressive pup
Wonder – after Wonder Woman
Xena – from Xena: Warrior Princess
Zatanna – after a magician from DC comic books
Funny Superhero Cat Names
Just because you're opting for a name of mythical proportions doesn't mean that your dog's name has to be so serious.
It just so happens that dog names lend themselves perfectly to superhero puns!
So, for those with a lighter sense of humor, here are some great "punny" choices for superhero cat names:
Furry Fury – This is a perfect choice for any furball you might be adding to your family.
Stanley – (Stan + Lee) For the true comic aficionados, this is a great name to honor the one and only Stan Lee of Marvel.
Ulysses Paw – Just imagine saying, "look at the claws on Ulysses Paw!" Or something to that extent. Either way, this is a treasure trove of punny opportunities for the lucky owner.
Agent Kitty – Maybe your cat is a member of S.H.I.E.L.D. Or aspires to be.
Catniss Everdeen – Everyone knows and loves Katniss from The Hunger Games. Your cat could be the feline version.
Black Panther – This name is especially great for a black cat. Or you could use it ironically for a cat with another coloring.
Final Thoughts: Superhero Cat Names
Now that you are armed with some great choices, you're ready to start narrowing down those choices and picking the name perfect for your awesome pal.
Our list of superhero cat names may have even prompted you to come up with a few ideas of your own.
Remember to consider your little friend's appearance, personality, and the qualities you love in those favorite superheroes when choosing a name.
Don't forget to try it on for size. Call out the name to see if it has the right "ring." (More on that below.)
More Epic Cat Names
The cat name inspiration isn't over yet. We have other ideas in complementary categories that might be interesting to explore.
Take a look at the articles below for more name options.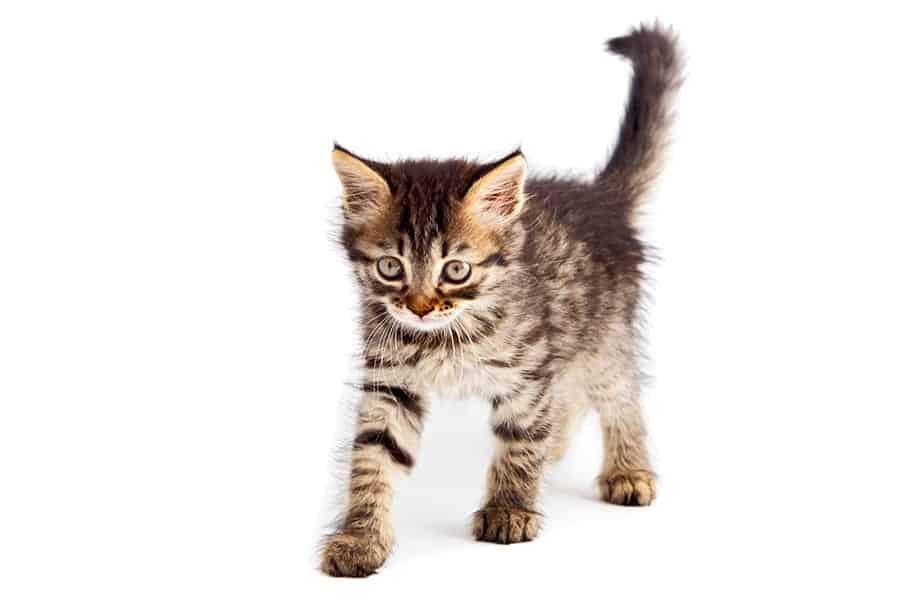 How Do You Pick The Right Name?
Here's an important question: how do you know if you've picked the right name for your cat?
After years of helping new cat owners find the perfect name, here are some tips we've picked up along the way:
Is it easy to say? Some names are great on paper but tough to pronounce in everyday life. Before you become set on a name, make sure it rolls off the tongue because after all, you'll be saying it many times a day once the cat joins your family!

Does it fit your cat? Check to see if the name matches your cat's personality and appearance before committing to a name.

Say it out loud. Can you imagine calling for your cat with this name? If not, then it's not the right choice. Move on and select something more appropriate.

And finally, trust your gut. Ask any new cat owner: when you find the right name, you'll know it!
How to Teach Your Cat Its Name