Are you looking for the perfect name for your new cat? Unisex cat names are always an excellent option! As any cat parent will tell you, picking out the right name for your new bundle of fur is an important step. It can shape your cat's identity, and, most importantly, you and your family will have to say it every day for many years to come.
Best Unisex Cat Names
Unisex cat names are both modern and fun, and best of all, you'll have extra flexibility when picking out the gender of your new cat.
Angel
Avery
Bailey
Berkeley
Bingo
Blue
Charlie
Colby
Frankie (Franky)
Frisky
Furball
Gizmo
Harper
Hayden
Jordi (Jordy)
Kit
Lucky
Oakley
Patches
Pepper
Pixel
Reese
Riley
Rory
Scout
Socks
Spot
Tabby
Zen
Cute Gender Neutral Cat Names
Unisex cat names are quickly increasing in popularity today for several reasons. Of course, this makes sense: they are cute and fun and provide flexibility in the breed and gender of the cat you bring home.
Alex
Adrian
Babe
Beasley
Blaine
Button
Ciao
Corky
Cuddles
Cupid
Dot
Fluffy
Freckles
Fuzzy
Happy
Jules
Kibbles
Laika
Micah
Morgan
Munchkin
Nugget
Paws
Pebbles
Peewee
Pinky
Poppy
Pookie
Puffin
Robin
Runt
Sam
Sandy
Squirt
Taylor
Wooly
Cool Unisex Cat Names
Selecting a name is one of your most important decisions as a new pet parent. Rest assured that you can't go wrong with any of these cool names below!
Alaska
Aspen
Bandit
Bear
Bentley
Boomer
Chevy
Dakota
Domino
Echo
Elf
Emery
Espresso
Gato
Harley
Jazz
Kai
Kennedy
Link
Nova
Payton
Phoenix
Puffy
Quinn
Rascal
Rebel
River
Sage
Sidney
Shadow
Shaggy
Sky
Skylar
Sparrow
Squat
Stinky
Storm
Tiger
Twilight
Velvet
Wags
Woof
Zephyr
Unisex Food Names
It's surprising how many great cat names come from the foods we love! These gender-neutral food name ideas are fun and creative names for your kitty.
Biscuit
Brownie
Butters
Butterscotch
Cheerio
Chewie
Chocolate
Chunk
Coco
Cookie
Gouda
Hershey
Java
Maple
Muffin
Nacho
Oreo
Peanut
Pinot
Pistachio
Raisin
Scrappy
Snickers
Twix
Waffles
TV and Movie Ideas
If you want some unique name ideas, pop culture is an excellent source of options. Here are some fun ideas to get you started.
Binx – From Hocus Pocus
Blair – Blair Waldorf from Gossip Girl
Boba – After Star Wars bounty hunter Boba Fett
Buffy – From vampire slayer in Buffy the Vampire Slayer
Charlie – Charlie's Angels or Charlie Bucket from Willy Wonka
Dalek – From Doctor Who, the armored alien race
Drew – From Drew Barrymore, who played Josie in Josie and the Pussycats
Friday – From the Ice Cube films
Gizmo – The cute mogwai from Gremlins
Indy – After Harrison Ford's adventurer Indiana Jones
Jesse – Jesse Pinkman from Breaking Bad
Joey – One of the Friends from the TV sitcom
Khaleesi – Title for Daenerys in Game of Thrones
Kitty – Kitty Forman from That '70s Show
Louie – Louie, the cat from The Princess and the Frog
Max – Mad Max, Mel Gibson's character in the movies
Pacey – Pacey Witter from Dawson's Creek
Parker – From Peter Parker, aka Spider-Man
Quinn – Harley Quinn from DC Comics and movies
Ridley – Heroine Ellen Ripley in the Alien movies
River – After River Tam in the sci-fi show Firefly
Robin – Batman's sidekick, Robin
Scully – Dana Scully from The X-Files
Sparky – The dog in Frankenweenie
Sonny – Sonny Crockett from Miami Vice
Taylor – Taylor McKessie from the High School Musical movies
Wylie – Wylie Burp, the dog sheriff in An American Tail
Related: more pop culture cat names
Black Unisex Names
If you've got a black male or female kitten, these names are a fun way to highlight their fur color.
Checkers
Cinder
Crow
Ebony
Jet
Licorice
Midnight
Nightshade
Noir
Onyx
Panda
Panther
Raven
Salem
Twilight
Zorro
Related: More names for black cats
Gray Unisex Names
These creative name ideas work wonderfully for a gray cat.
Ash
Charcoal
Dusty
Gandalf
Gray
Haze
London
Mist
Phantom
Silver
Smokey
Tinsel
Tornado
Related: list of gray cat names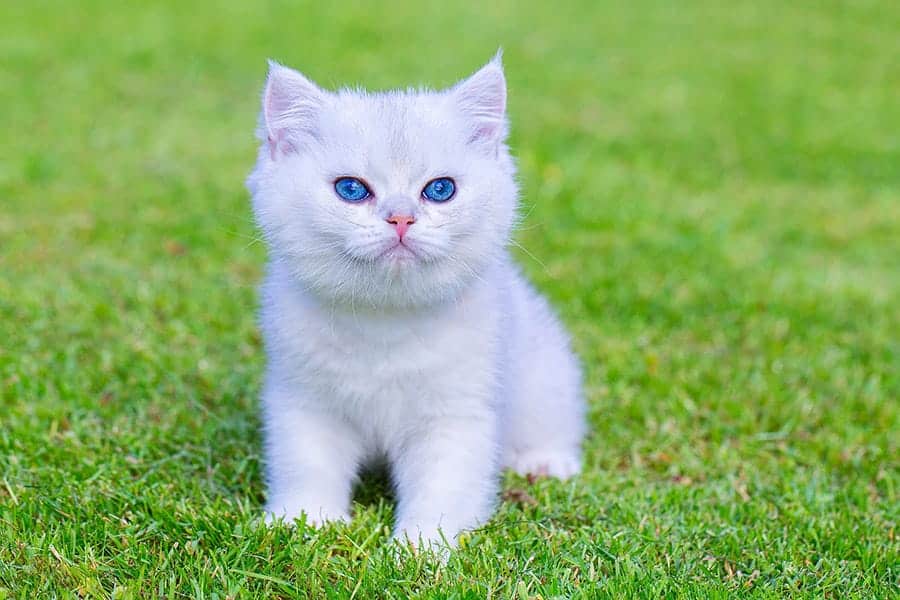 White Unisex Names
If you've got a lovely white furball, these androgynous cat names will be a perfect match!
Blizzard
Boo
Casper
Cloud
Coconut
Dove
Frost
Frosty
Ghost
Ivory
Marshmallow
Moon
Pearl
Polar
Powder
Snowball
Snowy
Winter
Related: additional white cat names
Gender Neutral Names For Orange Cats
These ideas are excellent for an orange cat and don't forget to check out our complete list of orange names.
Blaze
Carrots
Cheddar
Flame
Mango
Marigold
Pumpkin
Simba
Sunny
Related: all orange cat names
Why Unisex Cat Names Are Great
Unisex cat names are an excellent choice for so many reasons.
To start, if you find a unisex name you love, you don't have to stress whether it works for a boy cat or a girl cat. The name is perfect for any cat you welcome into your home, no matter what the gender is!
Also, don't forget that it's essential for a name to match your cat's personality, and unisex cat names usually work well with different dispositions.
Lastly, unisex cat names reflect the current trend of gender-neutral names for children.
More parents than ever choose a moniker that doesn't have specific sex associated with it. This could be a style preference, or it could be designed to reflect their views on gender.
No matter the reason, baby name trends impact what people name their cats, which is why we wouldn't be surprised to see unisex cat names quickly rise in popularity.
Ultimately, unisex cat names are modern and fun, and you'll be part of a growing trend if you pick one for your kitten.
More Cat Name Ideas
Some other popular articles you may enjoy include:
How Do You Pick The Right Name?
Here's an important question: how do you know if you've picked the right name for your cat?
After years of helping new cat owners find the perfect name, here are some tips we've picked up along the way:
Is it easy to say? Some names are great on paper but tough to pronounce in everyday life. Before you become set on a name, make sure it rolls off the tongue because you'll be saying it many times a day once the cat joins your family!
Does it fit your cat? Before committing to a name, check to see if the name matches your cat's personality and appearance.
Say it out loud. Can you imagine calling for your cat with this name? If not, then it's not the right choice. Move on and select something more appropriate.
And finally, trust your gut. Ask any new cat owner: you'll know it when you find the right name!
How to Teach Your Cat Its Name