Unique Calico Cat Names – 125+ Perfect Names
Last updated:
by Jessi Larson
Calico cat names – so many great options; how do you begin? With a gorgeous white, orange, and black coat, Calico cats are stunning creatures whose distinctive characteristics inspire cool names.
We've found some pretty awesome names for Calico cats inspired by color, patterns, seasons, and more. Have a look and find a favorite!
Cool Calico Cat Names
Here are cool, unique ways to recognize the cat's distinct appearance through a name to start our guide to Calico cat names.
The ideas include cartoon and real-life creatures with the same coloring, fun names based on orange or the combination of orange, black and white, and so much more.
We think you'll enjoy these names and find some excellent inspiration.
Amber – Like the fossilized tree resin that creates a beautiful bright orange substance.
Callie – A fun play on Calico.
Copper – The metallic reddish brown.
Coral – As in the orangish color.
Ernie – The cheerful dude from Sesame Street is also orange and black.
Garfield – The iconic cartoon cat is orange with black stripes, not far from a Calico.
Ginger – Calico cats do have lots of orange in their fur.
Hazel – Hazel eyes combine multiple colors.
Heathcliff – Another orange cartoon cat.
Hobbes – Inspired by the orange/black/white cat from "Calvin and Hobbes."
Marigold – The orange color.
Maryland – Calicos are the state cat.
Monarch – The monarch butterfly is also comprised of orange, black and white.
Nemo – The adorable Disney fish has the exact same coloring!
Oliver – The orange cat from the animated film Oliver & Company.
Oriole – The beautiful oriole bird sports the same coloring.
Penny – The copper-colored coin.
Picasso – When you think about it, Picasso's paintings have similar geometric shapes in bright colors.
Poppy – The flower is often orange in color.
Rainbow – Calico cats are made up of lots of different colors, just like a rainbow.
Rajah – The tiger from Aladdin
Rusty – It's a mix of black/orange colors.
Sepia – The reddish brown color.
Simba – From The Lion King
Tiger – Orange and black striped jungle cat.
Tigger – As in the tiger from Winnie the Pooh.
Tortie – (or Tortoise) The Calico coloring and pattern look a lot like tortoiseshell.
Chimera – a fire-breathing, hybrid creature
Female Calico Cat Names
Here are some excellent ideas for your girl kitten.
Stardust
Harmony
Sunset
Mystique
Dahlia
Autumn
Taffy
Tiger
Marble
Baby
Cinnamon
Jewel
Speckle
Dapple
Rainbow
Paisley
Bambi
Pixel
Blossom
Cleopatra
Galaxy
Opal
Tama
Clara
Splatter
Quilt
Aurora
Chloe
Piper
Male Calico Cat Names
Here are some great options for boy calico cat names. These unique options will suit your kitten perfectly.
Picasso
Autumn
Jigsaw
Patches
Kaleidoscope
Splash
Sundance
Ripple
Harlequin
Mosaic
Monet
Bongo
Fuzz
Confetti
Pudge
Galaxy
Prism
Tango
Spectrum
Fresco
Patchwork
Collage
Seasonal Calico Cat Names
The combination of orange, black and white is often associated with the fall.
How perfect is giving your Calico cat a name inspired by this spirited season? We love this idea and think you will too!
Check out these names and see if any fit your new furbaby.
Autumn – The fall season screams Calico colors, and Autumn is a gorgeous name.
Pumpkin – A list of Calico cat names wouldn't be complete without Pumpkin. So cute, so fitting.
Harvest – An earthy, beautiful name fitting the fall.
Leaf – Like the orange leaves that are everywhere this time of year.
Candy – When it comes to Calico cats, you have to think of Halloween, and the best part of this holiday is the candy!
Boo – Halloween also brings lots of scares. Boo! This name is so cute.
October – Of course, Halloween is in October.
Trick – And there's no trick without the treat.
Like the idea of names inspired by Halloween? Check out our guide to Halloween cat names.
Calico Cat Names Inspired By Food
Who knew that so many food-related names worked perfectly for Calico cats? We were pretty surprised! These yummy names reflect the Calico cool coloring and are unique, fun, and perfect for this type of cat.
Amaretto – Inspired by the sweet, orange-looking liquor.
Apricot – Reddish orange fruit. (Or Apricat for fun!)
Brandy – The caramel-colored hard alcohol.
Butterscotch – This delicious sweet is a buttery yellow/orange.
Caramel – A beige/orange delicious dessert.
Cayenne – The hot chili pepper is an orangish-red.
Cheeto – Like the orange, cheesy snack!
Cheddar – Based on the bright cheese, of course.
Chestnut -– A brown/orangey colored nut
Clementine – Like the cute orange fruit. An adorable name!
Cookie – How cute is this name?
Honey – Cute name with an orange tint.
Julius – Like an Orange Julius.
Maizie – After Maize the multicolored corn
Nectarine – The yummy orange fruit.
Paprika – After the reddish-orange spice
Peaches – As in the delicious fruit.
Pumpkin – The Autumn favorite.
Reese – Named after Reese's Pieces. Think about it.
Rolo – As in the caramel chocolate candy;
Saffron – A bright orange/reddish spice.
Snickers – A delicious chocolate, caramel, nougat, and peanut combination.
Spice – These cats have the look of spice colors!
Sundae – Sundaes are often vanilla ice cream with caramel and chocolate. It's as if a Calico cat were turned into a dessert.
Twix – The candy bar combines chocolate, caramel, and a biscuit, which resembles Calico colors.
Turtle – A turtle dessert that combines caramel and chocolate. Hmmm, those colors are awfully close to the Calico!
Truffles – a delicious dessert (or mushroom)
Calico Cat Names Based on Fur Pattern
Calico cats have a distinct pattern that provides fantastic inspiration for names. We love the idea of Calico cat names inspired by your pet's unique coat and think you'll find lots of inspiration in the options below.
Patches – The best way to describe Calico's fur, and it's super cute!
Spot – Calico cats often have spots. And this name is simply adorable.
Camo – Like camouflage.
Marble – The pattern also has a marbled effect.
Pixel – The small dots that make up a larger image.
Freckles – The Calico's specks can almost look like freckles. Adorbs.
Inky – The specks of black has almost an inky appearance.
Dot – The Calico coloring can sometimes look like dots.
Pebbles – Or like pebbles. (How cute is this name?)
Speckles – An adorable way to describe the pattern in the Calico's fur.
Mosaic – Last but not least, the Calico fur creates a beautiful pattern, like a mosaic.
Harlequin – As in the harlequin pattern.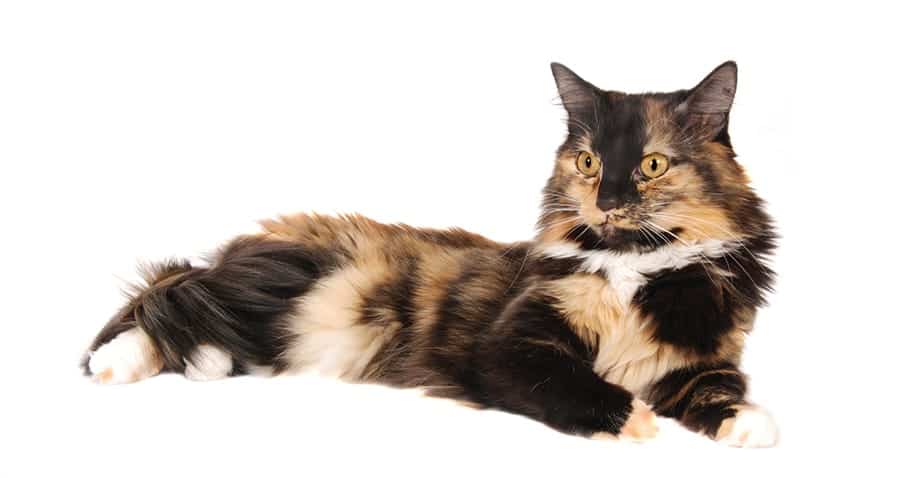 Want Even More Great Name Ideas?
If these cat names don't fit your fur baby, don't worry – we have thousands of other ideas you might like.
After all, a striking, gorgeous cat like a Calico deserves a name fitting its adorable appearance.
Start by checking out our cat name search engine, where you can sort by your favorite style or theme.
Or check out these popular categories:
What Exactly is a Calico cat?
Let's take a look at the fascinating genetics of these felines. Calico refers to the pattern of the cat, not its breed.
Fascinatingly, because the genetic determination of some cat coat colors is linked to the X chromosome, nearly all Calico cats are female. The few males generally have impaired vitality and are almost always sterile. Learn more about their genetic makeup – it's fascinating!
Cat breeds that allow Calico coloration are the American Shorthair, British Shorthair, Manx, Persian, Turkish Van, Exotic Shorthair, and Japanese Bobtail. Most cats with the orange mutant gene originated from Egypt and can be traced back to port cities along the Mediterranean in Italy, Spain, Greece, and France.
Today Calico is a popular term for the color pattern in North America, while the coloring is usually called tortoiseshell-and-white outside of the continent.
Cats with calico tri-coloring are considered good luck in many cultures. For example, they're sometimes called money cats in the United States.
Luck aside, owners of Calico cats are passionate about their pets. Don't believe me? Check out this list about why these cats are the best.
Conclusion: Calico Cat Names
We hope you found inspiration in our guide. Our list of 50+ ideas has names based on color, cool characters, food, pattern, and more.
And don't forget, if you have other ideas for unusual Calico cat names, we'd love to hear them. Let us know below. We use your ideas to keep our site updated and full of the best cat names possible!
How to Teach Your Cat Its Name