These candy cat names are perfect for the cat owner who loves a sweet treat! We have gathered over 100 names from classic candies and unique candy-related terms.
Best Candy Cat Names
Here's a list of some of the most popular candy cat names. A few of these names are even in the most popular cat names of any type.
Kit Kat
Hershey
Skittles
Honey – Bit-O-Honey
Oreo
Snickers
Cocoa
Rocky – Rocky Road
Rolo
Toffee
Female Candy Cat Names
These sweet names are perfect for a girl cat!
Peppermint
Sweetart
Sky – Skybar
Sugar
Lolly – lollipop
Charm – Charms, best known for Blow Pops
Tootsie – Tootsie Pop and Tootsie Roll
Candy Cane
Dot – Dots chewy candy
Gumdrop
Pixy – Pixy Stix
Caramel
Dove – producer of chocolates
Joy – Almond Joy
Abba – Abba-Zaba, taffy with peanut butter bar
Chupa – Chupa Chup lollipops
Brownie
Lollipop
Cella – Cella's chocolate-covered cherries
Godiva
Truffle
Chewie
Candy
Sugar Baby
Raisinet
Baby Ruth – use Baby or Ruth for short
Chiclet – chewing gum
Bubblicious
Mamba – fruit candy
Chick – Chick-O-Stick, coconut and peanut butter candy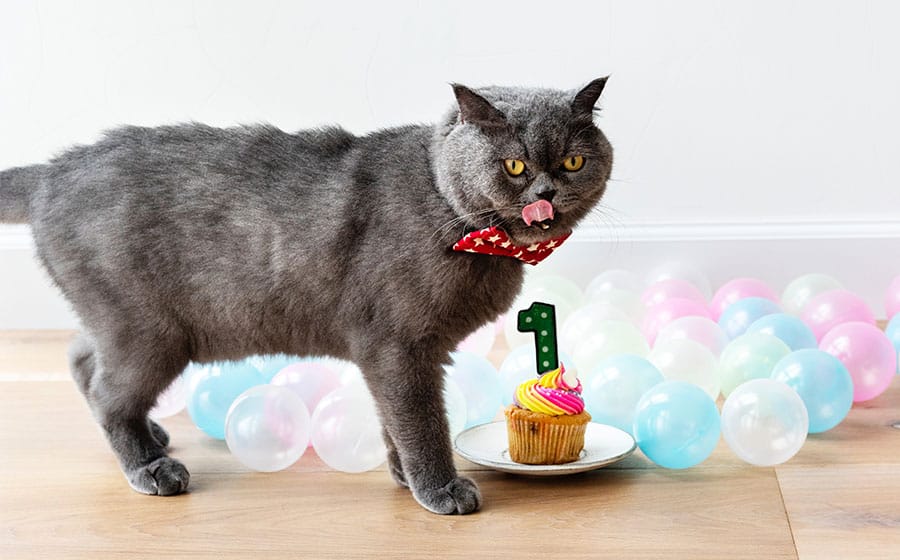 Male Candy Cat Names
If you have a boy cat these candy types and brands might be a perfect fit.
Sugar Daddy
Ike – Mike & Ike
Slo Poke
Pop – Short for lollypop
Charleston – Charleston Chew
Jolly – Jolly Rancher
Caramello
Reed – Reed's candy rolls
Bubba – Hubba Bubba
Hunk – Big Hunk candy bar
Fry – Fry's Chocolate Cream bar
Curly – Curly Wurly chocolate bar
Haribo – gummy candy maker
Henry – Oh Henry! candy bar
Mallo – short for marshmallow
Cadbury – candy company, well-known for creme eggs
Clark – Clark Bar
Black Jack – chewing gum
Astro – Astro Pop candy
Chuckles – jelly candies
Skor
Buckeye – chocolate peanut butter balls
Heath
Atom – Atomic Fire Ball
Ferrero – the parent company of Crunch, Baby Ruth, and more
Werther
Mars – makers of Snickers, Milky Way, M&M's, and more
Krackel – candy bar
Willy – WIlly Wonka
Gobstopper
York – York Peppermint Patties
Beeman – chewing gum
Mike – Mike & Ike
Reese – Reese's Peanut Butter Cups and Pieces
Toblerone – or Tobe for short
Brach – Brach's candy brand
Necco – candy wafers
Unisex Candy Cat Names
Finally, this list of ideas will work great no matter if you have a boy or a girl kitten.
Smartie
Choco – short for chocolate
Sixlet
Goo Goo – cluster candy
Gummi
Starburst
Taffy – saltwater taffy and Laffy Taffy
Biscuit
Spree
Cotton – cotton candy
Cashew
Jelly Belly
Red – Red Hot and Red Vine
Jelly Bean
Whopper
Spearmint
Zero
Butterscotch
Sno – Sno-Caps
Zagnut – Hershey's candy bar
Pez
Zaba – Abba-Zaba, a taffy bar with peanut butter
Oompa Loompa
Milky – Milky Way
Bazooka – Bazooka Joe chewing gum
Butterfinger
Jujube
Bubbles – Bubble Yum or bubble gum
Icee – slushy and candy brand
Licorice
Fudge
Ghiradelli – chocolate company
Peep – Peeps marshmallow candies
Twizzler
Goober – Goobers chocolate candy
Bon Bon – a chewie candy
Nougat – candy filling
Peanut – candy ingredient
M&M
Mint
Bear – gummy bears
Cookie
Hazelnut
Twix
Stix – Pixy Stix
Big Red – cinnamon gum
More Ideas for Names
We recommend saving several name ideas and then saying them out loud to determine your favorite. If you need some more great name ideas check out these lists: