Brown Cat Names – 110+ Colorful Ideas
Last updated:
by Jessi Larson
On the hunt for brown cat names? You've come to the right place! We have 110+ ideas perfect for your new brown furry friend.
Many cats sport a brown coloring in their coat, ranging from a light tan to a deep mocha and solid prints to unique patterns.
Our ultimate guide to brown cat names includes ideas that draw inspiration from food, different words for brown, animals of the same color, and so much more.
We're confident you'll find a name you adore. And if not, you can always use our online generator to find even more options.
Cool Brown Cat Names
To jumpstart our list, here are 20+ brown cat names that work for felines of any shade of brown.
Ranging from popular to unique, these names fit furry friends with a lovely brown coat.
Check these out and see if any are a fit for your furball.
Acorn
Bambi
Bear
Brown Bear
Brunette
Charlie Brown
Chestnut
Chewbacca
Hickory
Kobicha – one of the Japanese traditional colors used in kimonos
Leather
Moose
Mudd
Russet
Tanner
Taupe
Teak
Teddy
Teddy Bear
Topaz
Umber
Brown in Other Languages
Here's an excellent and cultured idea: brown cat names inspired by the color in other languages!
These names mean brown – just in another language. You could pick a language you're familiar with or go with whatever name sounds best and seems right for your cat.
Barna – brown in Hungarian
Braun – brown in German
Brązowy – brown in Polish
Brun – brown in Swedish, Danish and Norwegian
Castanho – brown in Portuguese
Coklat – brown in Indonesian
Kasshoku – brown in Japanese
Marron – brown in French and Spanish
Marrone – brown in Italian
Nâu – brown in Vietnamese
Brown Cat Names Inspired By Food
As we compiled a list of brown cat names, we noticed a surprising theme: many names are inspired by food and drinks.
From dark drinks to warm desserts, countless consumable items are brown. And so many make cool cat names.
Cute, sweet, and simple, these names are perfect for felines with a brown hue in their fur.
Bean
Brown Sugar
Brownie
Butterscotch
Cadbury
Canoli
Caramel – for brown cat with a golden hue
Carob
Cashew
Chip – as in chocolate chip
Cinnamon – for reddish-brown dogs
Clove
Cocoa
Coffee
Cola
Cookie
Espresso
Godiva
Guinness
Hazelnut
Heath
Hershey
Java
Kahlua
Latte
Mocha
Molasses
Nestle
Nutella
Peanut Butter
Pumpernickel
Raisin
Rolo
Snickers
Tootsie
Whiskey
You can find even more food cat names here.
Light Brown/Tan Cat Names
Many cats are light brown or tan that is still technically considered brown.
Here are ideas that recognize their lighter brown coloring for these fairer felines.
You could, of course, give any cat one of these cool names, but they work exceptionally well for cats with a light brown or tan coat.
Almond
Beige
Biscuit
Buff
Daffodil
Fawn
Ginger
Ivory
Khaki
Sahara
Sandy
Savannah
Sesame
Summer
Tuscan
Related: blonde cat names
Golden and Reddish Brown Names
You may also notice that particular cats have a golden or reddish tone to their coat.
This coloring is quite fetching on felines. If your cat has fur of this nature, check out these names representing their lovely locks.
Amaretto
Amber
Ambrosia
Autumn
Brandy
Burgundy
Cayenne
Cheyenne
Chili
Copper
Goldy
Hazel
Honey
Merlot
Penny
Rose
Ruby
Rusty
Saffron
Scarlette
Sepia
Shiraz
Sienna
Terra
Valentine
Final Thoughts: Brown Cat Names
Anyone can pick a name like Max or Daisy, and there's nothing wrong with that. But many people want a name tailored to their adorable animal's appearance.
In the end, brown cat names are a fantastic way to recognize your kitten's beautiful coat color and give them a unique moniker perfectly suited for their presence.
Our list of 110+ brown cat names includes ideas inspired by brown colorings, other animals, food and drinks, international translations, and so much more.
At the very least, you'll find inspiration. And ultimately, we hope you discover just the right name for your new pet.
More Ideas for Brown Cat Names?
If you have other ideas for brown cat names, we'd love to hear them! Just post a comment below.
We're always looking for inspiration for cool new names.
Or let us know what name you selected for your brown cat and how you came to that conclusion.
More Cat Name Ideas
If you're not digging any of the brown cat names on the list, try our online generator and find even more fabulous name options.
It allows you to sort by your favorite styles and themes to find the perfect name quickly. Voila!
Other popular ideas include: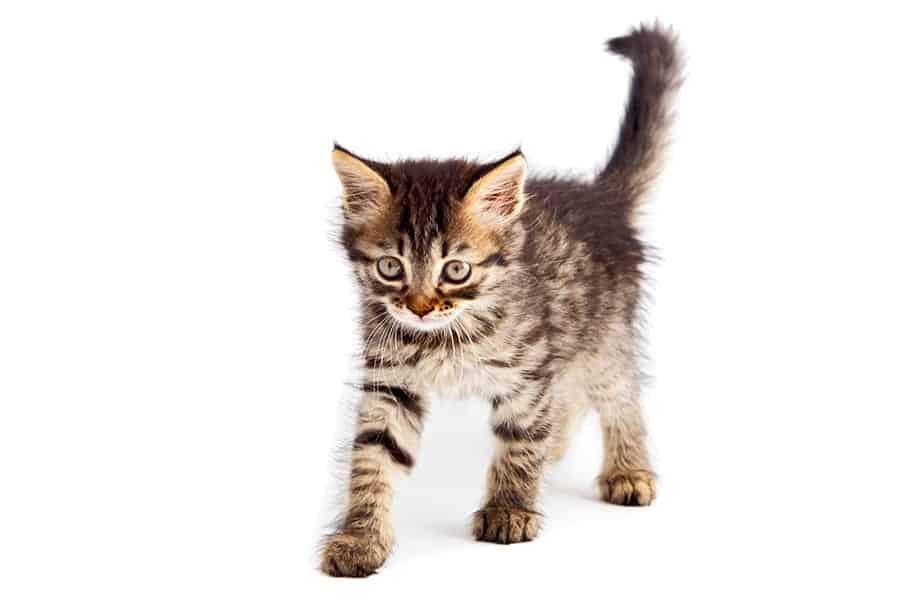 How Do You Pick The Right Name?
Here's an important question: how do you know if you've picked the right name for your cat?
After years of helping new cat owners find the perfect name, here are some tips we've picked up along the way:
Is it easy to say? Some names are great on paper but tough to pronounce in everyday life. Before you become set on a name, make sure it rolls off the tongue because after all, you'll be saying it many times a day once the cat joins your family!

Does it fit your cat? Check to see if the name matches your cat's personality and appearance before committing to a name.

Say it out loud. Can you imagine calling for your cat with this name? If not, then it's not the right choice. Move on and select something more appropriate.

And finally, trust your gut. Ask any new cat owner: when you find the right name, you'll know it!
How to Teach Your Cat Its Name