Warrior Cat Names – 2 Simple Steps for an Awesome Name
Last updated:
by Kyle Larson
Looking to create your own unique Warrior cat name? Here's a quick, easy tutorial to get started!
Warriors is a series of fantasy novels that follow the adventures of four Clans of wild cats. The cats in these books come from different Clans each with their own territories and skills. Warrior cat names follow specific patterns that you can use to come up with a name for your own cat.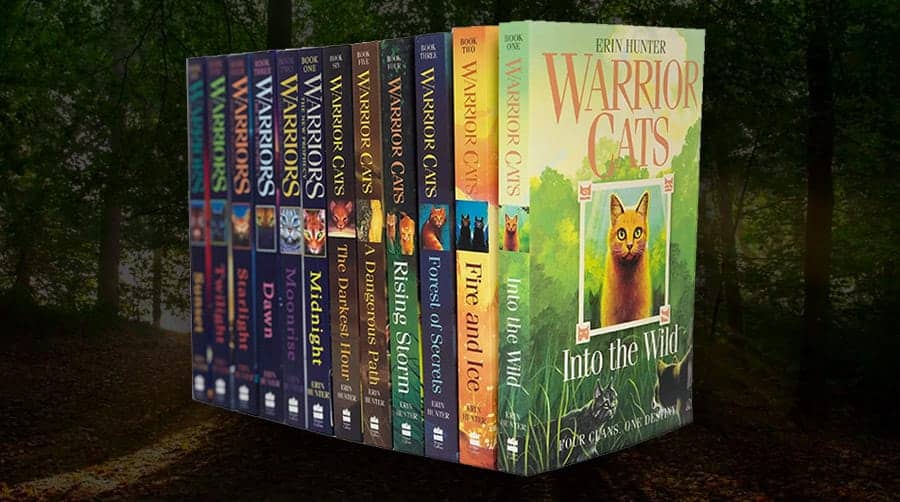 Starting Your Warrior Cat Name
Warrior Cat names have two parts to a name that are joined together. First you'll need a prefix to use for your cat. Prefixes are often:
Something about their appearance: White, Tiny, Tiger, Spotted, Dark, Raven, Yellow
Something related to nature: Willow, Rose, Flame, Storm, Lightning, Ivy, Lion
Completing Warrior Cat Names
Next you'll need to pick a suffix to complete your Warrior Cat name. These are usually something that matches what you chose for the first part of your name. For example if you chose 'Tiger' the last part might be 'claw' or 'tail'. There are also a few suffixes that have meanings you can use: star is for a leader, kit is for a young cat, and paw is an apprentice.
Alternatively, cats without a Clan just stick to the first part of their name, which is also a great way to name your cat. For example:
Bella
Birdy
Cody
Cora
Flora
Flower
Nutmeg
Pixie
Ruby
Socks
Violet
Note: Warrior Cat names should never include the following: spirit, shadow, thunder, river, wind, and moon as they are reserved as sacred.
Some Warrior Cat Names Examples
Here are a few examples from the books and made up that might help you get going with creating a name:
Tigerstar
Cinderpelt
Stormcloud
Dewpetal
Redtail
Firepaw
Sunnytail
Nightstar
Bluestar
Graystripe
Tigerheart
Redstar
Hawkheart
Honeypaw
Snowdrop
Warrior Cat Names Lists
Now that you've got a good idea of how to build your own Warrior cat name, here are some lists of prefixes and suffixes that you can match up to create the perfect name:
Prefixes
Suffixes

Acorn
Adder
Alder
Apple
Ash
Aspen
Autumn
Badger
Bella
Birch
Bird
Blizzard
Blossom
Bluebell
Bounce
Bramble
Brave
Breeze
Briar
Bright
Cedar
Cherry
Cinder
Claw
Cloud
Copper
Cricket
Crooked
Crow
Cypress
Daisy
Dandelion
Dapple
Dark
Dawn
Dead
Dew
Doe
Dove
Drizzle
Eagle
Echo
Fawn
Feather
Fern
Finch
Fire
Flash
Fox
Frost
Fuzzy
Golden
Green
Hare
Hawk
Hazel
Heather
Hickory
Holly
Hope
Ivy
Juniper
Lark
Leaf
Leopard
Lightning
Lily
Lion
Maple
Meadow
Mint
Mist
Misty
Mole
Moon
Moss
Needle
Night
Oak
Otter
Owl
Pearl
Petal
Pine
Pollen
Poppy
Pounce
Primrose
Rain
Raven
Ripple
Robin
Rook
Rose
Rush
Sandy
Shimmer
Shy
Silver
Sky
Sleek
Snail
Snake
Snow
Sparrow
Speckle
Spider
Splash
Spotted
Squirrel
Stone
Storm
Sun
Sunny
Swallow
Swift
Talon
Thorn
Thrush
Tiger
Tiny
Tumble
Turtle
Twig
Vine
Violet
Vixen
Whisker
White
Wild
Willow
Wind
Wish
Wolf
Wren
Yellow

bark
bee
belly
berry
bird
bite
blaze
branch
breeze
briar
bright
brook
burr
bush
claw
cloud
creek
dawn
dusk
ear
eye
eyes
face
fall
fang
feather
fern
fire
flame
flight
flower
foot
fox
frost
fur
hare
hawk
heart
hollow
jaw
jay
kit
leaf
leg
light
mask
mist
moon
mouse
night
nose
pad
paw
patch
pelt
petal
pool
poppy
pounce
puddle
run
runner
scar
shade
shine
sky
slash
snow
song
spot
spots
spring
stalk
star
storm
stream
strike
stripe
stone
swipe
tail
talon
thistle
thorn
throat
toe
tooth
tuft
water
watcher
whisker
willow
wing
wish
whisper
Warrior Cat Name Generator
If you don't want to manually create a name from the prefixes and suffixes, try out this automatic Warrior Cat Name generator! It'll automagically combine one of the prefixes & suffixes above to make a name.
They are completely random, so keep clicking until you find a name you love!
Your Warrior Cat Name:
Click below to generate!
Generate a Name
Looking for more names? Check out our cat names from mythology.