100+ Tuxedo Cat Names We Adore
Last updated:
by Jessi Larson
Are you searching for tuxedo cat names? Then, you're in the right spot. We've got over 100 ideas you're guaranteed to love.
When it comes to cuteness, tuxedo cats are downright adorable. In addition, the contrast of the black and white creates a striking image reminiscent of tuxedo formal wear.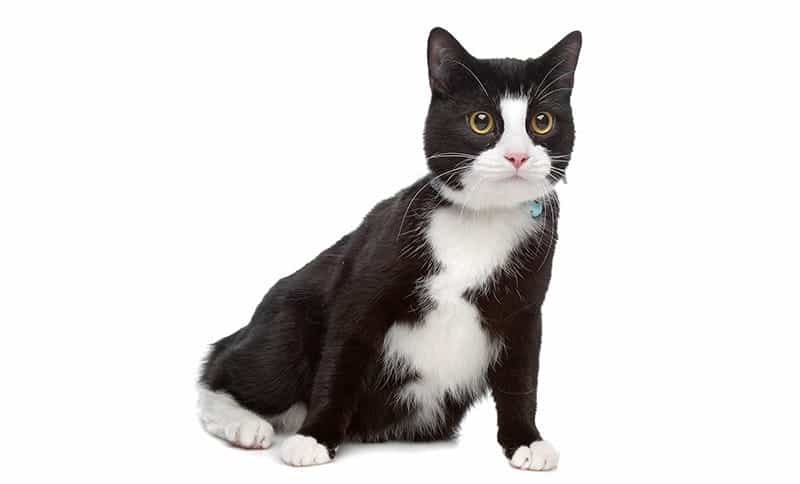 Off the bat, here are a couple of name ideas to consider:
Tuxedo – A very obvious choice for tuxedo cat names, but we had to include it. (Bet you didn't see that coming.)
Tuxeda – You can also tweak it to Tuxeda for female cats.
Tuxxy – Or you can shorten it to this cute, sassy nickname.
Tux – And of course, Tux is a short and sweet option for tuxedo cat names.
That's just the tip of the iceberg. Here are 100+ additional ideas we know you'll adore.
Famous Tuxedo Cat Names
Many Tuxedo cats have graced movies, TV, books, and even the White House throughout history.
What better inspiration for tuxedo cat names than the famous cats that came before them?
Sylvester – As in Sylvester the Cat, the famous Looney Toons character who loved to chase Tweety bird.
Felix the Cat – Felix the black and white cat was created during the silent film era and is perhaps the world's most famous tuxedo cat.
The Cat in the Hat – The tall anthropomorphic cat from the famous Dr. Seuss book.
Figaro – The sweet black and white cat in the Disney film Pinocchio.
Socks – The name of the Clinton family's bicolored cat when they were in the White House.
Mr. Mistoffelees – A young black-and-white tuxedo cat with magical powers in Cats.
Tuxedo Cat Names – Other Animals (Real and Cartoon)
Another idea for inspiration: other black and white animals.
From animals found in nature to famous creatures in cartoons, these names immediately invoke the notion of black and white.
Mickey – Mickey Mouse is also a black and white creature, just like your cat!
Minnie – So is Minnie Mouse. We love this name for a female tuxedo cat!
Snoopy – The famous cartoon dog from Peanuts is black and white, too.
Panda – This name is super cute for a tuxedo cat, especially one who is fluffy like a bear.
Skunk – This might not be the nicest name for your cat, but you have to admit it's pretty darn funny.
Pepe Le Pew – Remember Pepe Le Pew, the romance-loving skunk created by Warner Bros? This name is sweet and charming.
Penguin – This black and white bird makes a super cute cat name.
Puffin – The Puffin is another popular black and white bird. How cute is this adorable name for your new kitten?
Orca – As in the black and white whale.
Shamu – The famous black and white orca whale.
Zebra – Another black and white animal, this one from Africa.
Chilly Willy – Remember this sweet cartoon penguin?
Albatross – This unique seabird is also another white and black animal.
Tuxedo Cat Names – Foods
Believe it or not, some of your favorite foods make great tuxedo cat names. Here are creative – and delicious – ideas to consider.
Oreo – Oreo cookies are a delicious combination of chocolate cookies (black) with a sweet cream frosting (white).
Cookie – You can also call your cat cookie, after Oreo cookies or chocolate chip cookies, a combination of light and dark.
Sundae – Sundaes are most often comprised of vanilla ice cream (white) and fudge topping (black).
Pepper Saltman – This is a fun play two popular things of white and black color: salt and pepper!
Junior Mint – A tiny, yummy combo of black and white.
Peppermint Patty – Named after a candy with dark on the outside and white on the inside. When it comes to Tuxedo cat names, this is sweet and feminine.
Klondike – The Klondike bar combines a chocolate outside and vanilla ice cream inside.
Whoopie – As in Whoopie Pie, the delicious classic dessert.
Tuxedo Cat Names – Patterns
Another idea is to draw inspiration from your cat's coat pattern. Creative and cute, these names might be right on the mark (pun intended).
Spot – If your Tuxedo cat has spots, this is a name you must consider.
Dot – Likewise, you can also call your spotted cat Dot if it's a girl. Or Dotty.
Patches – Perhaps your cat's markings look like they're patched together.
Freckles – And if your cat has a freckled pattern, this name is super sweet.
Inky – Sometimes cats of this coloring look like they have white fur with black ink blots.
Speckles – An adorable way to describe a fur pattern with multiple colors.
Pebbles – A cat's fur can sometimes look like pebbles.
Marble – Or it can also have a marbled effect.
Smudge – A tuxedo cat's fur can sometimes look like a smudge.
Blot – Another way to describe their coloring.
Other Cool Tuxedo Cat Names
And finally, here are even more tuxedo cat names to check out for your new cat.
Butler – Butlers famously wear tuxedos.
Bowtie – A bowtie often accompanies a tuxedo.
Jeeves – Remember the famous fictional butler who wears a black and white tuxedo? This is a fun, cheeky name!
Spade – One of four suits on playing cards and a sharp name for your cat.
Cruella – If you've got a naughty female cat, the black-and white-haired villain from 101 Dalmatians is a fun name option.
Charlie Chaplin – Synonymous with black and white films, Charlie Chaplin is considered a famous icon of the silent movie era.
Groucho – Groucho Marx is another famous entertainer from the black and white era.
Betty Boop – You can't forget about this iconic black and white cartoon character.
Domino – As in the classic game with white with black dots.
Checkers – How fun is this name? A checkers board is often black and white in color, like your cat's fur.
Chess – Another classic game that often has black and white pieces.
Harlequin – The bold diamond design of the Harlequin print is often in black and white.
Keys – Named after black and white piano keys. This is an especially cool name if you play the piano!
James Bond – 007 was always wearing a tuxedo.
Yin-Yang – In Chinese philosophy, yin and yang describes how opposite or contrary forces (represented by white and black) are actually connected.
Priest – A priest is often dressed in white and black clerical clothing.
Gatsby – Jay Gatsby of The Great Gatsby is often dressed in a tuxedo.
Zorro – The dashing masked vigilante first appeared in a black and white TV show.
Rorschach – The Rorschach test involves a black inkblot on a white piece of paper.
Wednesday – As in Wednesday Addams, the little girl from The Addams Family.
Gentleman – If you have a male tuxedo cat, this makes a classy name for such a regal-looking animal.
Lady – And Lady is perfect for a female tuxedo.
Black Cat Names
As you hunt for tuxedo cat names, another idea is to hone in on just one color.
Perhaps your cat has more black coloring than white. Or you're looking for more ideas than what is listed above.
Whatever the case, black cat names also make great options for tuxedo cats.
Cinder
Shadow
Midnight
Ebony
Pepper
Raven
Noir
Espresso
Coffee
Godiva
Shady
Bear
Puma
Nebula
Olive
Java
Mystery
Stormy
Onyx
Chip
Twilight
Bandit
Vader
Check out even more black cat names.
White Cat Names
And the same goes for white cat names. Usually, black is more dominant on tuxedo cats, but if your cat has more white coloring by chance, consider these ideas.
Winter
Frosty
Ice
Snowy
Snowball
Snow White
Angel
Dove
Ghost
Bones
Boo
Casper
Sugar
Vanilla
Jasmine
Ivory
Pearl
Alabaster
Check out even more white cat names.
Other Ideas For Tuxedo Cat Names?
If you have other ideas for Tuxedo cat names, we'd like to hear them! Just leave a message in the comments below.
We love hearing from readers and use your ideas to keep our site fresh.
More Cat Name Ideas
If you're not digging any of the tuxedo cat names on the list, try our online generator and find even more fabulous name options.
It allows you to sort by your favorite styles and themes to find the perfect name quickly. Voila!
Since Find Cat Names launched in 2014, our site has provided thousands of great names for new furbabies and helps over 6 million new cat owners every year.
With these stats, we're confident you'll find the name for your cat on our site.
Popular categories include:
How Do You Pick The Right Name?
Here's an important question: How do you know if you've picked the right name for your cat?
After years of helping new cat owners find the perfect name, here are some tips we've picked up along the way:
Is it easy to say? Some names are great on paper but tough to pronounce in everyday life. Before you become set on a name, make sure it rolls off the tongue because after all, you'll be saying it many times a day once the cat joins your family!
Does it fit your cat? Check to see if the name matches your cat's personality and appearance before committing to a name.
Say it out loud. Can you imagine calling for your cat with this name? If not, then it's not the right choice. Move on and select something more appropriate.
And finally, trust your gut. Ask any new cat owner: when you find the right name, you'll know it!
How to Teach Your Cat Its Name