Gifts for Cat Lovers
Last updated:

by Kyle Larson Affiliate Disclosure: We hope you love the products we've recommended! As an Amazon Associate we earn a small share from qualifying purchases.

Finding the perfect present for someone is never easy. Fortunately, if you know the person's hobbies and interests, that always helps narrow your search. Cat owners, for example, will most certainly enjoy gifts for cat lovers that reflect their affection for felines.

If you're shopping for such a person, you're in luck because we have the ultimate list of 25+ gifts for cat lovers. We've included options that are practical and used in everyday life, novelty gifts that are sure to get a laugh, and everything in between.

This guide to gifts for cat lovers includes ideas for everyone. Without a doubt, you are sure to find something the special person in your life will love!
Cat Gifts for Around Home
These cat gifts are perfect to spruce up your home or office.
These cute cat socks feature cat paw patterns and a cat face with ears at the top! They fit women US size 5-8.
A great gift idea for fur babies. This cat grass is a natural hairball control remedy for cats & digestive aid that cat owners can grow in this cute mug.
Adorable cat Post-it dispenser great for work or home. The weighted dispenser allows for one-handed note dispensing. A fun way to keep notes at your fingertips.
Spruce up the bathroom with these classy cool shower curtains. The silhouette curtain or the cat & crescent moon curtain.
Foodie Gifts for Cat Lovers
Need a cat gift for a foodie? These gifts are perfect for those who enjoy making something special in the kitchen, or just enjoying a good coffee or wine!
This cute set of black & white cat mugs also includes some cat face stirring spoons!
Perfect for the wine aficionado & cat lover! "It's not really drinking alone if the cat is home".
These cat coasters are a perfect small gift idea for the home and kitchen!
Throw this kitty into the mouth of your wine bottle and make sure that you keep your wine fresh!
Perfect kitty wine charms to wrap around the stem of your glass and remember which is yours.
Cat patterns make some pretty stylish kitchen aprons! Check out the black & white cat's meow, the pink betty apron, or the colorful hostess apron.
These clips keep your food fresh and feature a cute black & pink cat face.
Funny Gifts for Cat Lovers
Looking for zany, crazy gifts for cat lovers? We dug up some hilarious gift ideas that may push some buttons!
These magnets will look hilarious on any cat lovers fridge! They include 6 magnets featuring the rear side of different cat breeds.
This hilarious crazy cat lady action figure is a perfect joke gift or for the office!
TheOatmeal.com's most popular cat jokes, including "How to Pet a Kitty" and "The Bobcats," plus 15 new and never-before-seen cat themed comics!
The perfect mug for those who are joyfully irreverent and don't have a care about their love for their cat.
Cat lovers will laugh out loud at the quirkiness of their feline friends with these insightful and curious poems from the singular minds of housecats.
Tech Gifts for Cat Lovers
Even technology can be used to show love to your cats! These techie items are perfect for cat owners & lovers.
If you've got more money to invest, a Roomba is a lifesaver for picking up pet hair. The mid-priced version pictured above does a great job, or you can upgrade to a version that memorizes its route for more efficiency.
Monitor your cat from you phone! You can watch you cat anytime, plus talk & hear with 2-way audio, and play with the interactive laser.
These iPhone cases are super cool. They fit an iPhone 7 or 8, but if you need a different version just version just do a search and you'll find some other great ideas.
This cute laptop bag is made from canvas and fits laptops from 14″ – 15.6″.
Cat Gifts for Children
Do you have a special kid in your life who loves kitties? These gifts are for them, although we'd have to say they could also work great for the kid in anyone!
This super cute bedside nightlight comes with a remote control that can change its colors! The light comes in a few variations with different cat faces.
A cat-centric variation of the game Monopoly. Cat-opoly is great fun for family and friends. A perfect gift for all cat lovers.
Wireless bluetooth headphones featuring cute cat ears. The perfect gift choice for cat lovers. Includes fancy LED glowing lights with constant on and flashing modes!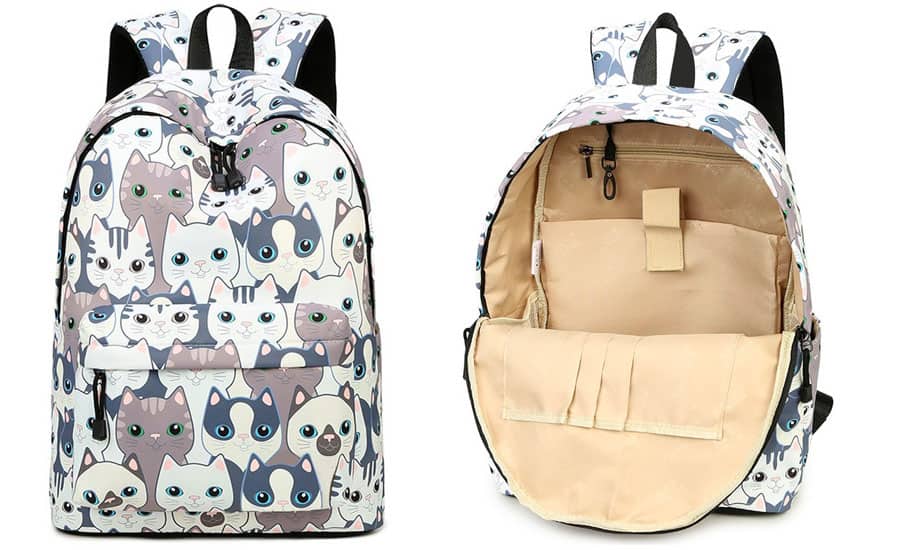 Adorable cat backpack perfect for kids to bring to school, or for adults who want to show some cat love!
Kitty slippers that are perfect for kids or adults who love to lounge around in comfort.
GUND Pusheen Stuffed Cats
These stuffed animal cats are too adorable to pass up! There are a ton of different variations such as the gray pillow cat, the cupcake cat, or the pink unicorn cat.
If you're looking for some great cat essentials & toys also check out our new kitten checklist!