How to Find a Vet for Your Cat [6 Easy Steps]
Last updated:

by Jessi Larson Affiliate Disclosure: We hope you love the products we've recommended! As an Amazon Associate we earn a small share from qualifying purchases.

One of the most consequential choices you'll face as a cat owner is choosing a veterinarian who's the right fit for both you and your cat.

Since cats have their own unique personalities, it only makes sense that they, like us, are going to prefer someone they connect with. (Or, in the case of some of our feline friends, someone they minimally dislike!)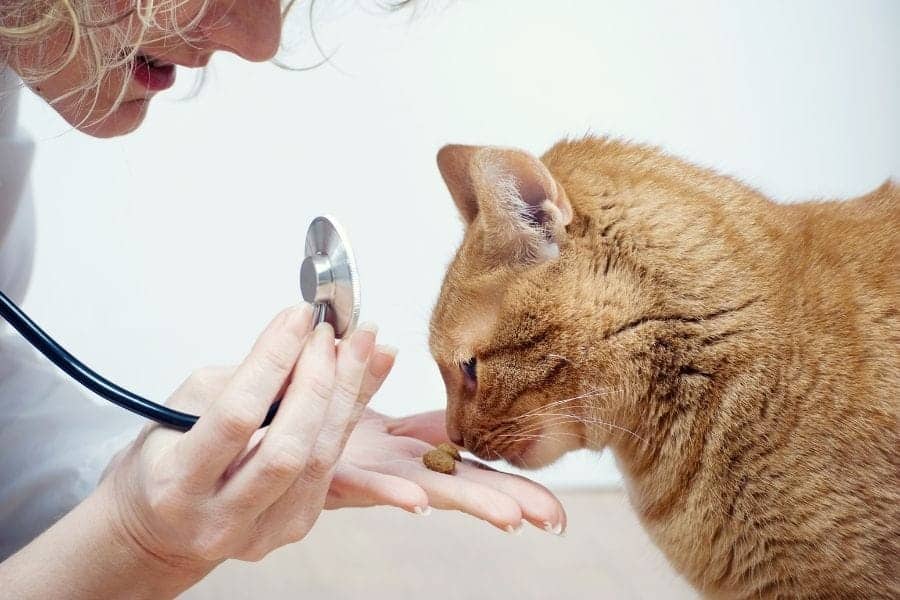 After all, you'll be entrusting this person with not only routine checkups and care but also possibly with urgent or critical care. And although no one likes to think about this, it's possible you'll one day be looking to this person for compassionate end-of-life care.
So what's a good way to go about choosing the right vet when there are many options available, especially if you live in a growing or densely populated area where choices can literally be in the dozens?
1. Conduct Research and Read Reviews
Way back, there was a saying to let your fingers do the walking (with phone books, if you remember them). Well, your fingers still can do the walking: it's called using your computer's keyboard. Search out the websites of some local vets.
What's your first impression? Is the site well-designed, easy to navigate and informative? Those are often signs that a business has its act together.
Now read reviews of those practices, paying attention not only to the ratings but to the number of high ratings. Any practice with a high number of reviews, most if not all very positive, is likely a well-established one that a lot of people trust.
2. Ask People in Your Community
Other really great resources for vet recommendations are friends and neighbors. There are many neighborhoods that have their own groups on Facebook or other sites, and it's easy to ask for recommendations.
People value their pets as family members, and they're often happy to recommend vets they've had great experiences with just as they are eager to recommend a good pediatrician.
Although you'll probably get a lot of different recommendations, you'll start seeing some recommended multiple times. That can help you narrow your list, especially as you start to see recommendations lining up with practices you liked during your online searching.
3. Make a Visit to the Office Without Your Cat
Most vets will welcome visits from prospective clients who want to meet the vets and the staff. They know the competition is tough, and they'll want to open their doors to you.
When you arrive, look around to see if the facility and the staff present look clean, orderly and welcoming. Are there elevated locations where you can set a cat carrier instead of placing it on the floor, where a cat may have less visual contact with you and feel more frightened?
Also, are there cat-specific posters and pamphlets on display?
A real plus is if the clinic has a separate waiting room or at least a separated area for cats. No, it's not true that dogs and cats are natural enemies, but it is true that some dogs are aggressive toward cats and some cats are afraid of dogs, aggressive or not.
Ultimately, it can be stressful for a cat in a waiting room with dogs there, too. Thus, a separate waiting room is a sign that the vet is in tune with cats' needs.
4. Check Credentials
This might actually belong above as the first or last step, but regardless, look for the vet's credentials.
Any good vet is going to have his/her educational information easily found on the website, and the degrees should also be easy to see and read at the practice.
A vet who has gone through the rigors of being fully licensed and accredited is going to be proud to display the proof. Be suspicious if that proof is hard to find!
5. Are the Vets and Staff Cat-Friendly?
On your first visit, you'll also want to assess how cat-friendly the vets and staff are. Any reputable vet will provide good care, but some people are naturally more a cat person or dog person, and that can sometimes translate into subtle differences when it comes to care.
In this day and age, many practices now have at least one vet who is a "dog person" and one who is a "cat person."
For instance, a vet who specializes in cats or has a true passion for them might be better able to figure out what might be ailing these petite creatures who often carry themselves as if they are tigers. That vet might be more likely to handle your cat in a way that calms and reassures it in what is often a stressful setting.
In other words, less stress for the cat and less blood shed for the vet!
Finally, look or ask to see whether the vet is a member of an organization like the American Association of Feline Practitioners (AAFP).
6. What Emergency Care Services Are Available?
Unfortunately, emergency treatment is necessary sometimes. Ask the vet if they provide emergency or 24-hour care.
If they don't, that's okay if they can tell you what local options are available and who they recommend.
Not offering emergency services doesn't have to be a deal breaker as long as the vet provides clear, practical advice about what to do in an emergency or after-hours situation.
Final Thoughts: How to Find a Vet for Your Cat
Has this been helpful? We really hope it has been, and we wish the best to you, your beautiful cat, and the lucky vet who has the privilege to care for him or her!
For many, a cat is considered a full-fledged member of the family. And you wouldn't put a family member's health in the hands of just anyone.
It's important to find a vet both you and your cat feel comfortable with and who will provide the absolute best care for your precious pet.
This will lead to a happier and healthier life for your cat, which is the goal of every good pet owner!