Best Cat Carriers
Last updated:

by Jessi Larson Affiliate Disclosure: We hope you love the products we've recommended! As an Amazon Associate we earn a small share from qualifying purchases.

If you need to transport your cat from one place to another, it's wise to invest in a cat carrier. Traveling can be scary for a cat, which is why it's important to research the best cat carriers available.

When you think about it, carrying a pet while traveling is even harder than carrying a baby. Your baby wouldn't jump out of the carrier and run away – but your cat would. To make traveling with a cat more comfortable, we've researched and compiled the best cat carriers you can find in the market.
The best cat carriers are comfortable for both you and your cat. After all, you'll potentially be carrying it for long periods of time so you want something that's easy to transport. And even more importantly, it has to be a safe and comfortable experience for your cat.
Explore the qualities of the best cat carriers…
Before buying a cat carrier, you should know what features you should be looking for. Below is a list of things to consider when looking for the best cat carriers.
1. Size
The size of your cat carrier matters greatly. You don't want it to take up a lot of space in your car. And if you're flying, you definitely want to make sure it fits under the seat on the plane.
At the same time, however, make sure that it has sufficient room for your cat so that they have adequate space and can breathe easily. Your cat's comfort should always be your top priority!
Ultimately, the best cat carriers are small and compact enough that they don't take up too much space but big enough to provide a comfortable experience for your cat.
2. Load capacity
Check your cat's weight and make sure that the carrier can hold their weight. You wouldn't want the straps to break off the first time you walk around with your carrier because it can't hold your cat's weight.
3. Durability of material
The material should be durable enough to handle your cat's scratches and bites and not experience wear and tear easily.
Also, the product should not get damaged at the seams, so look for one with double stitching.
Additionally, the material should be lightweight and easy to carry, so keep that in mind, too.
4. Ease of maintenance
With the best cat carriers, cleaning and storage should be easy.
Plastic products are the easiest when it comes to cleaning since they can easily be wiped down with a wet cloth. If you're getting a fabric one, then make sure it is machine washable to save the hassle of washing it by hand, which can be a tedious task.
Also, for secure storage, look for a carrier that can be folded after use and stored easily without taking up much space.
5. Security
Another thing to look for in the best cat carriers: security. You'll need a carrier that keeps your cat safe and sound.
Strong, durable zippers are best so that your cat cannot fall out. (A double zipper mechanism is excellent for this!)
6. Travel friendliness
If you plan on taking your cat on flights with you, get a carrier that is compliant with most of the airline's configurations and regulations. This is very important if you fly a lot and take your cat along with you for the trip.
7. Portability
You have to carry your carrier around when walking, riding or flying so it should be suitable for all these scenarios. A portable bag shouldn't be extra large or bulky. It should have comfortable shoulder straps (full ones are best!), feature a lightweight design and look good on your shoulder.
Sherpa Travel Original Deluxe Airline Approved Pet Carrier
We love that this carrier has a wire frame that makes it easy to fit under airline seats & allows top & side loading.
Best Cat Carriers – Product Reviews
Now that you know what to look for in the best cat carriers, you're ready to find the right fit for your needs.
Without further ado, let's look at our top picks for the best cat carriers available. We'll include both their pros and cons so you can make the best decision.
Whether its a car journey or an airplane ride or even a trip to the vet, this carrier is a perfect choice when you want to travel in style and with comfort.
The carrier has a patented spring wire frame that allows it to be squeezed under the seats as per airline policy. It also comes with a rear pocket to hold onto treats, food, bags or any other items needed on the go.
Ventilation is provided through a mesh window. With comfortable and soft padding, a non-slip strap to comfortably hold the carrier, and a machine-washable lambskin liner for simple cleaning, this cat carrier blends sleek style and an innovative design.
Traveling with your furry little friend doesn't get more comfortable than with this perfect carrier, one of the best cat carriers in the world.
Pros
Soft frame with fiberglass support rods
Top and side loading access
Wooden stability board with a waterproof liner
Cons
Mesh window can be chewed
No excess space for a bigger pet to move around
With its roomy design and built-in premium features, the PetLuv Cat carrier is one of the best cat carriers in the market. You can easily transport your cat in this carrier and travel without any worries. With its all-around windows, it will allow maximum sightseeing and optimum ventilation for your cat.
Additionally, this carrier is made up of heavy-duty rubber mesh that is tear resistant and has closable flaps with lockable zippers and reinforced seams for additional safety. Its adjustable seatbelt loops make it easy to take it with on car rides.
You can transport your cat in and out with ease due to the four easy reach access panels, and the adjustable shoulder straps make it easy to carry.
Plus, the plushy bed of this carrier is removable, washable, and extra soft to keep your cat comfortable.
Pros
Lightweight yet durable
Good ventilation
Cats can see through the carrier
Cons
Customers occasionally report issues with the zippers
This cat carrier features lightweight construction that makes it easy to carry. And with the convenient foldable design, you can easily store the carrier when you're done.
The mesh front panel and windows add to its ventilation and allow the cat to look around when traveling.
The material is super durable and can hold a cat weighing up to 18 pounds. Also, it's very easy to wash and clean. This is a great option for on-the-go adventures!
Pros
Budget friendly
Optimum ventilation
Foldable mesh design
Has a plush bed for the comfort of a cat
Cons
Customer reports that the mesh could be stronger
This cat carrier is airline approved, which is perfect for those who don't want to leave their precious pets behind when traveling.
It comes in four colors, is compact enough to fit under your seat, consists of extra durable materials, and ensures your pet is ventilated and comfortable.
Additionally, this cat carrier comes with two fleece pet mats so your cat can nap and rest. Its signature claw-defense mesh will make sure the carrier does not give in to your cat's scratching.
Pros
Airline approved
Mini zipper buckles for added safety
Removable and washable fleece mats
100% money back guarantee
Cons
More expensive than other options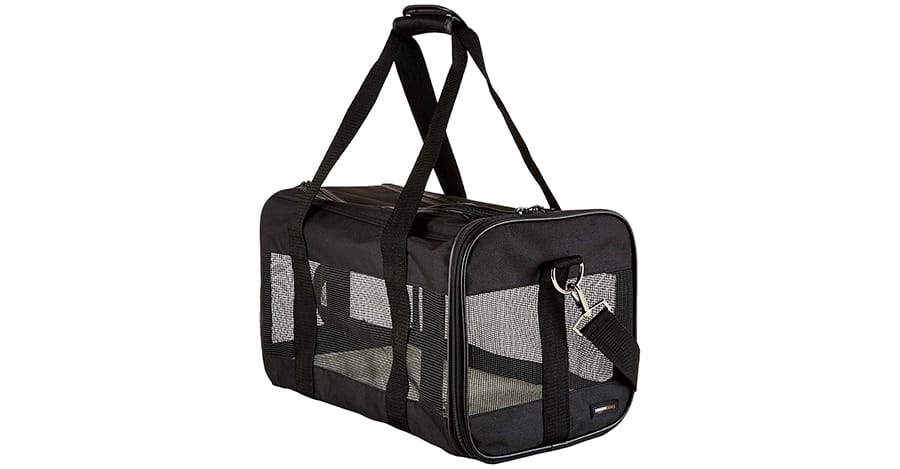 This AmazonBasics carrier features a simple design and a budget-friendly price tag, making it a great choice if you just need a basic cat carrier.
It is available in three sizes depending on your needs. (The manufacturer suggests that you measure your pet's size to ensure a good fit.)
For cat comfort, it has a machine washable fleece pet bed to keep your kitten comfy.
For size limit, it can hold a maximum weight of 16 lbs (7.3 kg). The carrier can be placed under most airline seats, and it features mesh panels on all four sides, carrying handles and adjustable straps for easy transport.
Pros
Machine washable and dryable fleece bed
Breathable mesh panels
Dual luggage and seatbelt strap
Cons
One of the best cat carriers sold, the Paws & Pals carrier comes with a removable fleece travel bed, padded shoulder straps, a lost and found tag if you forget your carrier somewhere, and various storage compartments for medicine, toys and food. Plus, it features proper ventilation so your cat will be safe and sound at all times.
Additionally, it can hold up to 15 pounds and comes in ten colors, so you'll be sure to find a look that fits your style.
The material is durable and well made. In fact, the interior is so soft and comfortable that you can easily walk around with it or take it in a car, plane or train, and your cat will be super comfortable the whole time.
Pros
Ventilated security screens
Money back guarantee
Manufacturer warranty
Removable and washable fleece bed
Cons
Customers report that zippers can be weak
Measuring 18" x 11" x 10", this carrier is the perfect size for most cats. It comes with sufficient room for your cat to comfortably move around, lie down and sleep with ease. (Just make sure you don't try to fit a dog inside this carrier since it's suited best to cats!)
When you zip up the end panels, the carrier holds its shape and keeps your cat very safe. You won't have to worry about the risk of injury.
The carrier is very reliable and made of solid, durable material. The inside has soft and comfortable padding, and the exterior features a mesh window for ventilation.
Additionally, this soft-sided carrier also has an adjustable, padded shoulder strap, so it's quite easy for you to carry it around. And with its waterproof design, it can easily be cleaned.
Pros
Waterproof material for easy cleaning
Available in various colors including blue, orange, black and pink
Only weighs 2.2 pounds
Luxurious material and safety padding
One-year warranty and 100% money-back guarantee
Cons
Some cats can nibble their way out of the mesh window or push the zippers to get loose
This patented cat carrier comes with an original side-opening door that allows your cat to walk into and out conveniently.
This carrier is a perfect example of style meeting comfort. Inside, carrier enables your cat to move around and sit on soft padding with ease. On the outside, the carrier folds up compactly and allows for easy cleaning.
The sturdy frame is made of high-quality polypropylene and is resistant to impact, making it a very durable and long lasting choice. Available in grey with several options for accent colors, the carrier measures 15.2" by 18" by 5″ – a fit for most cats.
Ultimately, it's a stylish, comfortable and easy-to-carry carrier with a long-lasting build.
Pros
Extra large opening for easier access
Machine washable and dryable cat bed
Secure lock system
Compact and lightweight design that aids in storage
Cons
Clasps on top can be weak and breakable
A stylish and versatile option, this cat carrier comes in five colors, can hold up to 15 lbs and features a thick exterior fabric with faux and fleece padding on the inside.
One of the best cat carriers, it has breathable mesh on all sides for proper ventilation and complies with major airline configurations.
The fleece bed can be removed and washed, adding to its convenience. It also has storage compartments for food and medicine, and the shoulder straps are padded to make it easy to carry. Also, the top is ventilated, too, so you can easily keep it under a seat in transit.
Pros
Premium quality zippers and locking metal clasps
Hand-washable fleece pad
Easy to fold and waterproof
Convenient storage compartments
Cons
Customers report that the straps and zippers break easily
Conclusion: The Best Cat Carriers 2020
We hope that our buyer's guide and detailed product reviews have given you a complete picture of each product, and you're now equipped with enough knowledge to find the best cat carrier for your needs. After all, happy pets mean happy travels!